Not everyone likes the word 'bisexual' to cover people who are attracted to more than one gender. It has the word 'sexual' within it, for example, and not every bisexual person wants to be sexual with anyone, never mind with more than one gender.
And all of that's fine!
Having said that – top tip: if you are going to use an acronym that's an alternative to 'LGBT' on your publicity without ever expanding it, try not to use one where the top hits on Google for it are..
.. Gateway Regional School District, Massachusetts
.. AcronymFinder saying it's 'Gateway Regional School District' or 'Growth Rate Standard Deviation' score
.. The Free Dictionary saying the same
.. the previous aircraft registration code for one of Thomas Cook Airlines' planes
.. GRSD Sewer Authority, serving southwestern Berrien County, Michigan
.. Abbreviations.com saying it's probably 'Gallen River Sanitary District', but might be the usual school district, or 'Garden Reach Slum Development', 'General Requirements Supplement Document' or even 'Gilang Ramadhan Studio Drummer'
.. General Retirement System City of Detroit
.. the spammers LinkedIn suggesting you learn about working at the GRSD Sewer Authority
.. Garden Reach Slum Development
.. some Tynker.com URL that happens to have a directory called GRSD.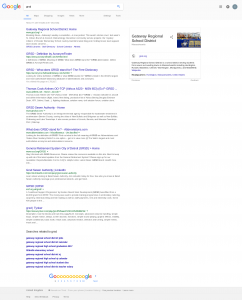 That's the top ten of only 'about 77,100' results. How many do you think are the meaning you want? Especially when the 'searches related' doesn't even include GRSD LGBT which is what you need to find that it's presumably
Gender, Romantic and Sexual Diversities
you meant by GRSD.
(That's after Google suggests you probably mean 'grad lgbt'..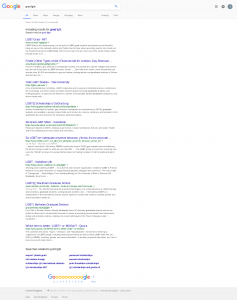 .. and tells you about the LGBT societies at MIT in Boston, Massachusetts etc etc…)
'About 9,380 results' once you've said you really only want 'grsd lgbt',* the second of which is someone complaining that it's too close to GRID ('gay-related immune deficiency', one of the first names for what was soon renamed Aids). Two of the others are search keyword spamming, 'get your Grsd here!' things.
Still, the third one is Bi Pride UK! Or their application to the Aviva Community Fund, anyway.
Moral: if you're using an unfamiliar acronym, expand it at least once when you use it.
I wonder where this page will end up on the list of results?
* By comparison, 'lgbt' alone has about 38,100,000 hits, so about five hundred times those for all the meanings of 'grsd'.